Wedding Packages
We offer a wide variety of packages for our wedding couples. We provide anything from a simple ceremony edit to full day coverage. Check out the information below to get a better idea of what is included with our wedding packages. If you like what you see, Contact Us Now to inquire about availability for your date. Thanks for visiting! Last updated 6/21/17.
Basic

2 Videographers
1 Hour of Coverage
Ceremony Only
Custom Packaging
DVD or Blu-Ray Disc
1-Carat

2 Videographers
8 Hours of Coverage
Highlight Film Only
Digital Upload Provided
Custom Packaging
DVD or Blu-Ray Disc
2-Carat

2 Videographers
8 Hours of Coverage
Highlight Film
Digital Upload (Highlights)
Full Ceremony Edit
Custom Packaging
DVD or Blu-Ray Disc
3-Carat

2 Videographers
9 Hours of Coverage
Highlight Film
Digital Upload (Highlights)
Full Ceremony Edit
Reception Events (Toasts, etc.)
Custom Packaging
DVD or Blu-Ray Disc
Our "Cinematic Highlight Film" includes the most beautiful footage from your day.  Prep shots, venue decorations, aerial footage, time-lapses, etc. are creatively arranged with audio excerpts from your ceremony and toasts, then mixed with dramatic background music to fit your wedding theme.  These films present a "wow" factor that tells the story of your day with a unique, creative, emotional short film.

"Full Ceremony and Reception" segments are presented "Documentary" style.  This means that these events are captured and edited "as they happen, in the order that they happen."  We film your full ceremony, toasts, dances, and other reception events in this fashion.
See video samples below for examples of each style.
Cinematic Highlight Film
Clips from your entire day (prep shots, first look, vows, toasts, etc.) are creatively arranged into a powerful music video, perfectly recapping your entire day in this 5-8 minute cinematic highlight film.
As an added bonus we provide this video to our couples as a web link (public or private), making it easy to share with friends and family via email and/or social media. We especially love putting these videos together and our couples are always ecstatic upon receiving them. View some recent samples to see why:
Included with: 1, 2, and 3-Carat Packages
Ceremony
This chapter includes your entire ceremony from start to finish. We film your ceremony with four different cameras, carefully placed at various angles in order to provide full coverage of the event. Audio recorders are strategically placed to ensure every vow, blessing and pronunciation are captured clearly. The footage is then edited together to create a visually stunning presentation of your ceremony. It's like being a guest at your own wedding, but with the best seat in the house!
Included with: 2-Carat and 3-Carat Packages. Also available as a stand-alone "Basic" option.
Reception
Party time! Here's where the fun really begins. This chapter includes highlights of everything after your ceremony, depending on our timeframe. Cocktail hour, dances, toasts, cake cutting, garter/bouquet, etc. are included in this chapter. While most of these events are captured "Documentary Style" (as they happen), this segment does include a couple more beautiful montages, including a "cocktail hour/intro" and an exciting "dance montage" (one of our personal favorites.) The video finally ends with a credit roll with some bonus images to cap off the day. View samples of our Reception Segment below:
Included with: 3-Carat Package
Customization
Every couple's final product should be as unique as their wedding day. We custom design each package to recreate the feel, theme, and overall aesthetic of each wedding. Many couples have mentioned that our attention to detail is what sets us apart from other vendors.
Each disc opens with a chapter selection menu featuring background music and imagery from your day. From this menu you can choose to play the entire video or watch individual chapters.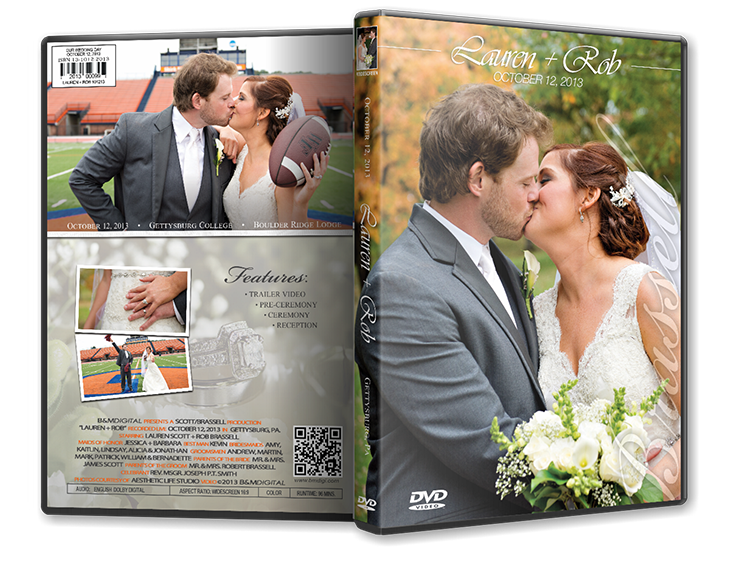 Included with: All Packages
Custom Flash Drives
We also offer the option to deliver your wedding video on these beautiful, custom designed flash drives, providing another gorgeous keepsake of your day. The crystal flash drive itself and matching Luxe box are both laser engraved with your names as shown on the samples below. Included on each drive are your final edited video(s), all music used throughout the entirety of the project, DVD/Blu-Ray artwork, and several snapshots from throughout the day. Files are playable on PC, MAC and many newer Blu-Ray, DVD Players and Smart TV's.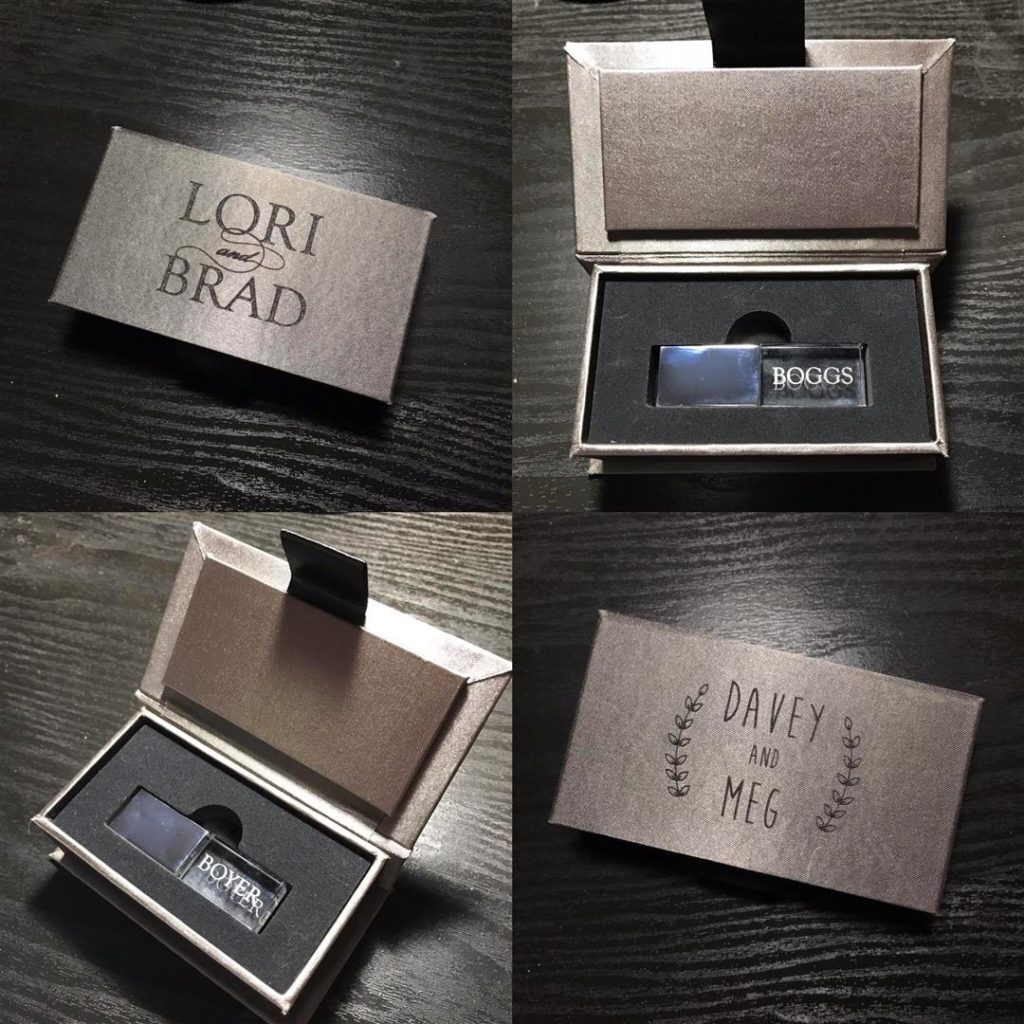 Available as an Add-on or In Place of the DVD/Blu-Ray Disc. $195.
Guest Interviews
Guest Interviews are a great way to remember everyone that was present at your wedding, and maybe even receive some marital advice at the same time. This is also a great way to capture personal messages from guests you may not have had enough time to interact with or those you may not see very often. Guest books are nice to have, but it's even nicer to be able to watch messages from your guests first-hand.

Available as an Add-on. $295.

Additional Options & Conditions
Additional Filming Time: If you feel our packages do not provide enough time to capture everything you'd like, we offer additional time at our standard rate of $145/hour.
Extra DVD/Blu-Ray Discs: You may order as many extra copies as you'd like. Current pricing is $35 per Blu-Ray and $25 per DVD.

Raw Footage: Raw footage is not included with our Wedding Packages but may be purchased for an additional fee of $495. Files are provided un-edited on a USB flash drive.
'Through the Years" Photo Reel: Some couples like to have a photo reel/slideshow video to play during seating before the ceremony or reception. We can put one together for you including up to 50 photos. $195

Travel Fees: We charge a $1/mile flat rate (calculated round-trip) for projects outside of our immediate service area of Chambersburg, PA. Projects over 2.5 hours away require a hotel reservation for the night prior to the event.

Turnaround Time: We estimate an approximate 12 week turnaround time for all wedding projects. We like to take our time and make sure everything is PERFECT! No rush jobs here...

If you have any questions at all regarding our services, please feel free to contact us via email at info@bmdigi.com or call us any time at 717-372-9800. You can also find many more samples on our Facebook and Vimeo pages. We wish you all the best and look forward to talking with you soon about your big day!